Important: Please read the instructions carefully and watch the two video's below. This will make our conversation more productive and ensure you get the best possible outcome.
Step 2: I've sent you an email with instructions regarding our consultation call. Read it and reply back to me.

Step 3: Add to your calendar the date and time for our call. I've sent you an email containing that. If you're more than 5-mins late the call will be cancelled and you will not be able to reschedule. 
Step 4: Please make sure you're in a quiet room, no airports, no calls while driving, etc.
Step 5: Watch the Spartan Coaching™ Demo video to understand what our program is all about. Scroll down on this page to find it.
Myself, or someone from my team will call you via Zoom, Skype, Facebook Messenger or your phone number at the time that you selected.
I look forward to helping you TRANSFORM!
-Xenios
Please watch this to see how our program works: Spartan Coaching™ Demo 
What results do call attendees get?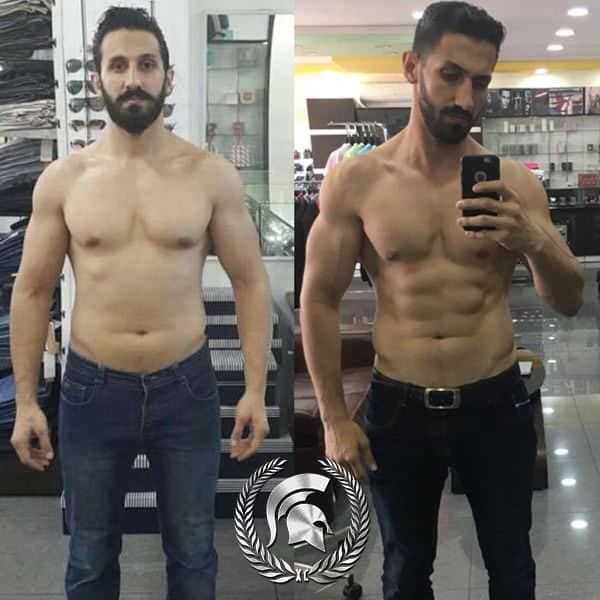 Abbas H.
Sierra Leone, South Africa
188 lbs (85.5 kg)
161 lbs (73 kg)
12 Weeks
Here's what Abbas told us in the consultation call before joining the Spartan Coaching program:

"I tried many programs before, but nothing was designed according to my schedule. I need something realistic that would allow me to get in shape in still run my businesses in Sierra Leone. My main goal is to get a six pack without taking out time for my businesses."

Abbas started at 188 lbs (85.5 kg) and 22% body fat.

At the end of the program, he was at 161 lbs (73 kg) and below 10% body fat!

So, in a bit over 3 months that Abbas was in the Spartan program, he lost over 27 pounds (12.2 kg) of fat while gaining muscle.

He didn't just lose weight – he went from flabby to shredded.

As you can see, these are legitimate results from a results-driven, proven and tested coaching system. Abbas made the decision, took action, and achieved his goal.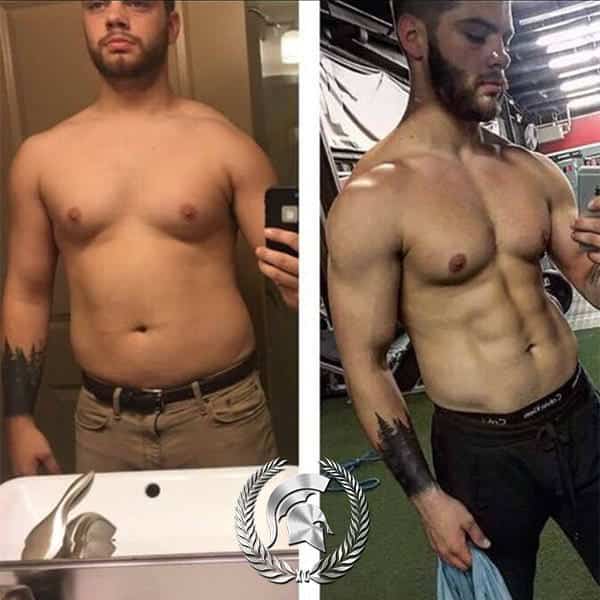 Martin D.
New York, USA
209 lbs (95 kg)
178 lbs (81 kg)
12 Weeks
Martin is 29 years old, and he is an entrepreneur.

He tried a few diet methods, got some results, gained mass but also gained a lot of fat. His biggest struggle was to manage his diet while going out for dinners with clients from his work.

I gave Martin the exact amount of calories, the types of foods he needed to gain muscle, lose fat, and build his energy levels. He fully committed to the program as you can see from the picture. It took him just 3 months to go from 209lbs (95kg) to 178lbs (81kg) and get into this fantastic shape.

This is what he said about the Spartan Coaching program:

"Spartan coaching is by far the best program I ever joined! I've been following Xenios for youtube for a long time and got many pieces of advice from there. Everything changed for me since I joined his Spartan Coaching program. His approach is very professional, and his methods are unique. I have learned so much during the period I was working with Xenios, and I managed to achieve my goal. Thank you!"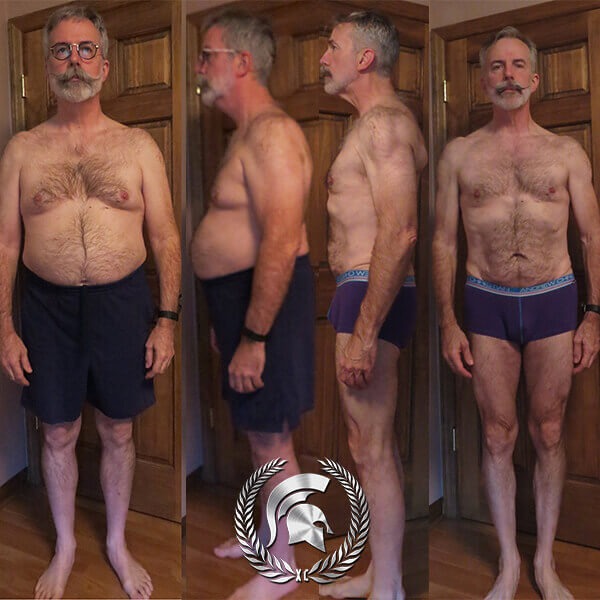 Tim S.
Oklahoma, USA
220 lbs (99 kgs)
183lbs (83 kgs)
12 Weeks
I've joined Xenios's Spartan coaching program since late November 2016. My goals have been muscle first to fix my posture issue, lower back pain and then weight loss. When I joined the program my weight was 220 lbs (99 kgs) and within 12 Weeks I came down to 183lbs (83 kgs). I've lost nearly 40 pounds during the program.

Xenios is very thorough in his preparation of exercise plans. I've had several different exercise plans with him…excellent for keeping things new and challenging my body in different ways. When I have questions about exercises or about his fitness application, he's there usually within 24 hours with answers. He'll tweak plans to meet my needs or to adjust to equipment that's available in my gym.

One of the best things that ever happened to me was the ability to learn how to do everything on my own without his help. I managed to learn how to create my own workout program, my own nutrition plan and how to be more efficient during my day. At first, I thought it would be difficult working with a personal trainer who wasn't right with me when I was training. But joining the Spartan Coaching program I realised how much better it is rather than by having a personal trainer at the gym.

In the end, I'm very happy about joining the Spartan Coaching program. One look at the scale or in the mirror tells me all I need to know!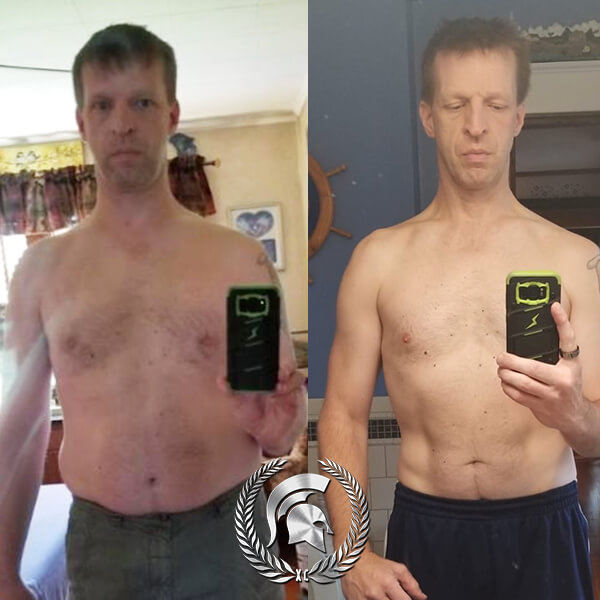 Matthew O.
Massachusetts, USA
215 lbs
178.5 lbs
7 Months
This is Matthew from Massachusetts, USA. He is a massage therapist and he is 49 years old.

Before Matthew decided to join our Spartan Coaching Mentoring Program he was 215 lbs and for the last 20 years, he had problems with his lower back, cholesterol levels and sugar. He tried many different programs before including personal trainers however non-of them provide him with long-term lasting results.

After he joined our program, within 7 months we managed to get down to 178.5 lbs by creating a personalised system that allows him to eat the foods that he wants and also adapt to his busy schedule. As a self-employed massage therapist, one of our struggles was to create the program in a way that it doesn't take much of his time. The results after 7 months, phenomenal.

This is what he said about the Spartan Coaching program:

"One of the best decisions I ever made. I wished I had discovered this long time ago as I tried many programs without success. After 20 years I have no more back pain, my cholesterol is down, my sugar is down and everything feels amazing. I was at a class reunion and people were telling me how I changed. It really feels amazing to receive compliments and knowing that I have my health back. One of the best investments I made for myself this year. Thanks to Xenios and his team."
How Dana (51 years old) went from 24% body fat down to 14% body fat within 4 months with the Spartan Coaching program.
How Lewis (60 years old) went from 30.6% body fat down to 20.1% body fat within 3 months with the Spartan Coaching program.
How Peran (54 years old) went from 323 lbs down to 263 lbs within 7 months, lowered his cholesterol levels and treat his lower back pain with the Spartan Coaching program.
How Sergio (45 years old) treat his lower back pain, reduced cholesterol levels and fix his  sleep apnea problem within 4 months with the Spartan Coaching program.
Watch this interview to learn more about Xenios!
Remember this: The way you do one thing is the way you do everything!
Make sure you show up to this call on time, focused, serious, be real, and tell the truth (it's the only way we can help you). I've seen many "hot shots" fail because they couldn't put their ego aside and be a student. Winners are lifelong students.